I wrote this whole post before I realized that there's a heart in my first 3 links, and the last is a quote about love... Theme much? I wasn't even trying... but here are some LOVEly posts from my fave blogs: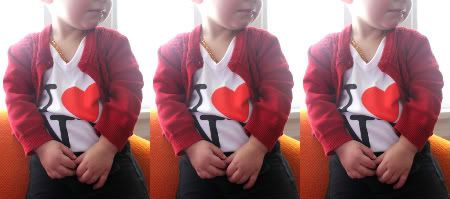 It's tough being a thug.
Thats the actual caption for this pic, seen over on
Smile and Wave
. Rachel often chronicles the "adventures" of her little one, Ruby, but this was the funniest I've seen yet. Isn't she so cute?
Sidenote: Can you believe that I've lived in NYC my whole life, and have NEVER been to the top of the Empire State Building?
"Love is a temporary madness. It erupts like an earthquake and then subsides. And when it subsides you have to make a decision. You have to work out whether your roots have become so entwined together that it is inconceivable that you should ever part. Because this is what love is. Love is not breathlessness, it is not excitement, it is not the promulgation of promises of eternal passion. That is just being "in love" which any of us can convince ourselves we are. Love itself is what is left over when being in love has burned away, and this is both an art and a fortunate accident. Your mother and I had it, we had roots that grew towards each other underground, and when all the pretty blossoms had fallen from our branches we found that we were one tree and not two."
-St. Augustine, from the movie Captain Corelli's Mandolin
I'd be lying if I didn't say there's love in the air this week. PJ and I have been getting excited for our first Valentine's Day together, which I promise to photograph, and I think I got him something he will really like! I hope you all have a weekend full of love, whether it be from family, friends, or that special someone :-)